The Goldilocks Brand
Our Story
Goldilocks traces its roots to the collaboration and complementary talents of the women, whose collective love for good food fueled what has been transformed into the global enterprise today.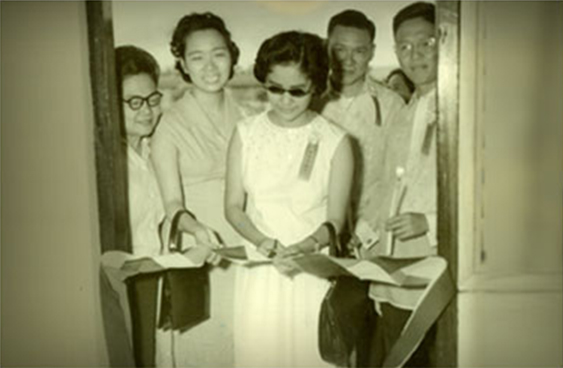 Through hard work, dedication, and an uncompromising commitment to total customer satisfaction, Goldilocks is now the largest Filipino-owned bakeshop chain in the world. As a true global brand, it has expanded to more than 420 stores in the Philippines and overseas markets, and now employs a workforce of over 2,000 people. Likewise, the opening day total sales of P574 back in 1966 has multiplied thousands of times over.

Perhaps more impressively, generations of Filipinos consider Goldilocks not only as a brand, but a time-honored family tradition. Now celebrating its 47th year, Goldilocks continues to strengthen its position as a genuine Filipino Icon.
Little did the founders know that this
"Once Upon a Time" would flourish into
a real-life "Happily Ever After"

Our Brand
The bakeshop that has become an integral part of the Filipino way of life.
Now on its 50th year, Goldilocks remains that company and more. At the forefront of its industry, the company enjoys a substantial lead over competitors in all aspects of performance. National consumer surveys have consistently identified Goldilocks as the landslide winner in customer satisfaction indices such as Awareness Conversion (the ability to translate brand awareness to actual trial) and Share of Heart (the emotional approach to measuring preference).

Indeed according to a 2011 study by Taylor Nelson Sofres Philippines, Goldilocks enjoys a total product awareness of 100 percent. More impressively, Goldilocks has managed a full conversion ofawareness-to-trial, and has done exceedingly well in retaining trial to regular purchase. It enjoys a committed customer base, and continues to attract even more.
Our Values
The Goldilocks brand boils down to simple Filipino values. Thoughtfulness. Care. Love for family. Excellence.
The popular book collection "You Know You're Pinoy If…" lists 92 items that cleverly capture the unique idiosyncrasies, essence, and character of the Filipino way of life. All right up there with "You keep a tabo in your bathroom and "you eat rice for breakfast" is "Goldilocks means more than a fairy tale character to you", proving just how much Filipinos have accepted Goldilocks as a cultural fact of life. Indeed the Goldilocks brand boils down to simple Filipino values. Thoughtfulness. Care. Love for family. Excellence.
And while it is overwhelmingly evident that Goldilocks has an indelible brand identity in the Philippines, it is also an identity that can be easily communicated and adapted to new markets abroad. As shown by its strong international presence, Goldilocks is a global brand that has successfully provided 100 percent Filipino alternatives to a wide range of desserts, snack foods, and breads, proving that the Filipino can produce high-quality products at par with the best of the rest of the world.
With each product purchased and consumed, customer's
don't merely get a delicious slice of cake or a scrumptious dish,
but a taste of something truly Pinoy.


Global Expansion
Well-loved, homegrown enterprise primed to serve
the rest of the world
Most Filipinos consider Goldilocks not only a brand, but also a Filipino Institution. In fact its popular tagline, "How thoughtful, how Goldilocks" has evolved over the years into "How thoughtful, how Pinoy (colloquial for 'Filipino')", and later to "Ang sarap magmahal ng Pinoy!", embracing a culture and tradition that goes beyond the name. Now, on its 47th year, Goldilocks further highlights its position as the leading bakeshop brand in the Philippines with its new tagline, "You're the 1, Goldilocks!". Yet Goldilocks has also decided to reposition itself as a global brand- as a well-loved, homegrown enterprise primed to serve the rest of the world. Following the principle of "thinking global, strategizing regional, and acting local", it maintains the exact homegrown goodness of its products in overseas markets, but endeavors to acquaint multicultural tastes with its menu items as well.

11 stores
in United States

As a result, its hold in the international market continues to strengthen. From one branch in Los Angeles, California in 1976, Goldilocks has expanded to other key cities in the United States such as San Francisco, Las Vegas, Sacramento, and San Diego, for a total of 11 U.S stores.
2

stores
in Canada

Its first outlet in East Coast will soon open, with others sure to follow. Likewise, the two Goldilocks outlets in Canada will undoubtedly encourage more branches to open due to its remarkable success.
6

stores
in Thailand

Most recently, Goldilocks has opened 6 stores in Thailand. Goldilocks has also tapped markets in several other Southeast Asian countries such as Singapore, and Hong Kong. Moreover, it has received a considerable number of requests to open in the Middle East, mostly from Overseas Filipino Workers and expatriates.